Latest
How to use Cornish Sea Salt Smoked Flakes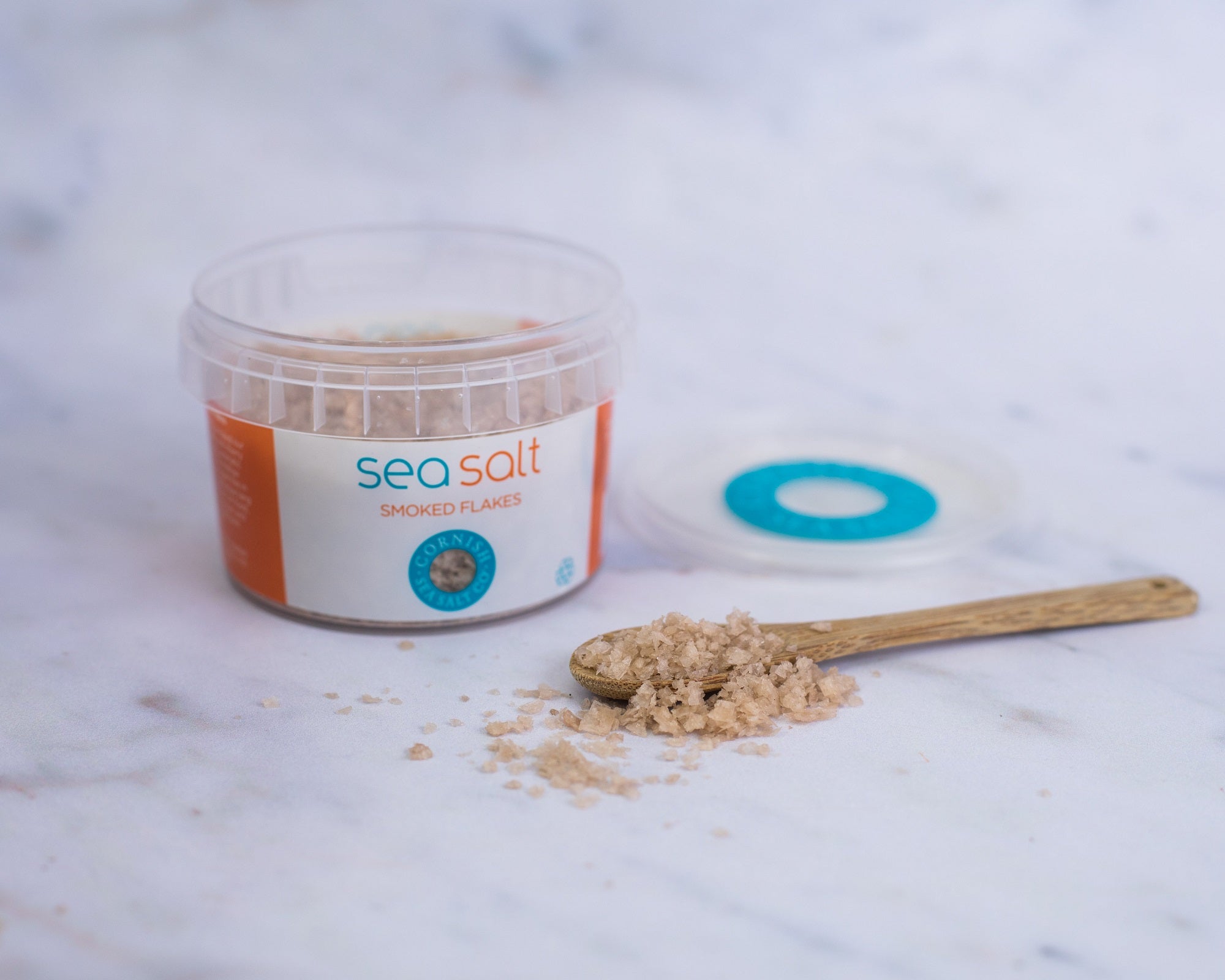 Not sure how to use smoked salt? We've created a recipe guide for 4 ways to use Cornish Sea Salt smoked salt flakes in the kitchen.
Our mineral rich sea salt flakes have been gently smoked over oak, apple and cherry wood in our very own cold smoking machine on site, giving that summer bbq grill tastiness.
This salt delivers a rich, smokey flavour in every pinch – transforming food by adding a barbeque tang and a sophisticated umami taste, intensifying savoury flavours and adding an unexpected twist to sweet dishes.  
The sheer versatility of this product is seriously exciting, so if you're wondering how to use smoked sea salt in the kitchen, let us share with you 4 recipes using smoked sea salt. 
Roasted Macadamia Nuts
Our smoked salt creates a depth of saltiness to contrast the sweet honey and coconut for an impressive dinner party snack
Place your macadamia nuts on a baking sheet. Drizzle with honey and melted coconut oil and cook at 180˚C for 15-20 minutes until golden brown.
Season generously with Smoked Sea Salt Flakes and coconut flakes whilst hot. Serve warm for a weekend snack with a chilled drink.
Cardamom & Salted Caramel Ice Latte 
A deep smoky twist to balance the sweetness of this flavoured coffee
Heat sugar over a high heat until it melts, stirring constantly. When it browns, quickly stir in boiling water, a pinch of Cornish Sea Salt Smoked Flakes and cardamom a heat for a further 15-30 seconds.
Make your espresso coffee and add in your spiced salt caramel syrup. Pour over ice with cold milk or serve hot. Starting the day with sweet and salty twist.
Creamy smoked scrambled eggs
The ultimate vegetarian brunch alternative with all the deep savoury smoky flavours of bacon or smoked salmon
Whisk the eggs and add a small pinch of smoked sea salt. Heat a heavy bottomed pan and melt a knob of butter on a low heat and pour the beaten eggs into the pan.
Keep the eggs moving with a spatula until they come together and look silky and spoon on to toasted sourdough. Season to taste with a scrunch of smoked salt flakes and serve with a handful of fresh watercress.
Chicken Skewers
A delicate hint of smokiness to pair with this simple chicken dish, served with whatever is in the fridge! 
Mix equal parts of soy sauce, rice wine vinegar, Japanese whisky or sake, brown sugar, crushed garlic, grated root ginger and a generous pinch of smoked sea salt in a bowl and cook for about 15 minutes on a medium heat. Let cool then brush onto prepared chicken skewers.
Cook the chicken skewers for 20 minutes over hot charcoal embers or under the grill. Baste while cooking and sprinkle with smoked sea salt & sesame seeds to garnish.