Latest
Cornish Sea Salt meets Pots & Co - Exclusive Recipes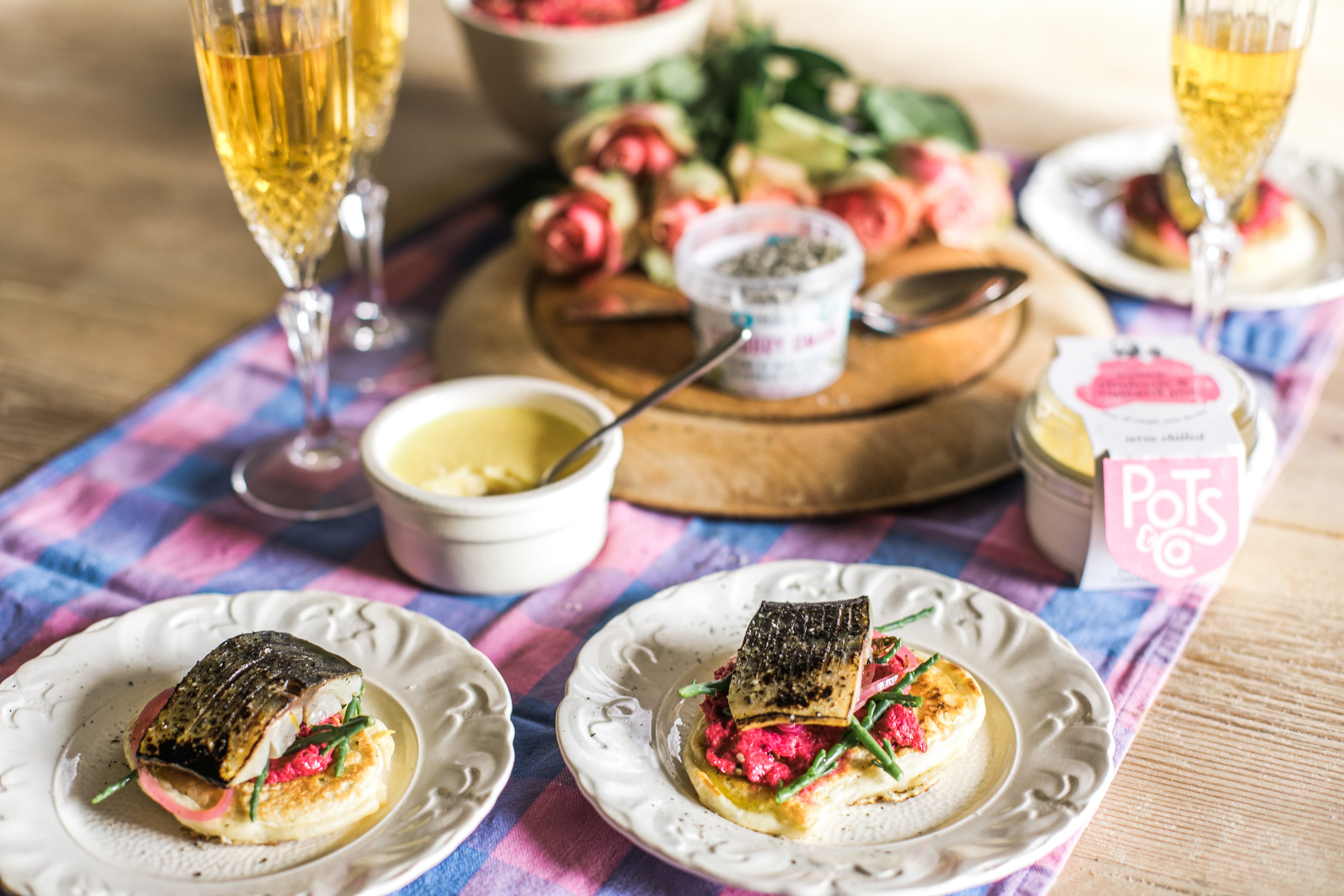 We've been working with Pots & Co to devise delicious menus that you can cook and enjoy at home, featuring casual party canapes, a show stopping salt-baked chicken and a date-night posh steak & chips, all rounded off with their best-selling pudding pots. We think that careful seasoning is key to good cooking and want to show you how easy it is to use different types of salt across your menus and how versatile it is. Salt isn't just for savoury food either - Pots & Co use Cornish Sea Salt in some of their puds!
Here you can find the recipes and serving suggestions to accompany the fabulous photographs you can see on our social media pages.
CURED MACKEREL PIKELETS
This dish uses the humble Cornish mackerel but elevates it to a party canapé level with some Cornish Sea Salt and homemade pikelets. Pikelets are a cross between a crumpet and a blini and work really well with this oily fish. The quick pickled onions cut through the cured fish with some fresh acidity, and you can go one bit further and top with caviar for a real burst of flavour from the sea. Following these mackerel pikelets with the Pots & Co Rhubarb & Custard creates a fun, casual, party-style meal, designed to let conversation carry on while you build your canapés and share the pudding pots.
Serves 12
INGREDIENTS:
FOR THE CURED MACKEREL
2 fresh mackerel
100g Cornish Sea Salt Crystals
25g caster sugar
1 tbsp orange zest
1 tbsp chopped dill
1 tsp cracked black pepper
2-3 tsp Cornish Sea Salt Savoury Umami
FOR THE PIKELETS
500g plain white flour
350ml warm milk
350ml warm water
5g powdered dried yeast
10g Cornish Sea Salt Flakes (gently crushed)
1 tsp baking powder
1 tsp vegetable oil
FOR THE PICKED RED ONIONS & GARNISH
1 red onion - finely sliced
150ml cider vinegar
50g caster sugar
50g samphire
FOR THE BEET HUMMUS
150g Beetroot, cooked
150g Chickpeas
2 tbsp tahini
4 tbsp olive oil
2 tbsp lemon juice
1 tbsp dried apricot, chopped
1 tsp ground cumin
1 tsp Cornish Sea Salt Flakes (gently crushed)
METHOD:
Mix together the Cornish Sea Salt, sugar, orange zest, dill and black pepper to create a salt cure. Fillet the mackerel (a fishmonger could do this for you) and portion into 5-6 pieces per fillet. Place the mackerel portions into a tray and cover with the cure mixture. Leave in the fridge for 2-4 hours.
For the pickled red onions, simply warm the vinegar and mix with sugar until dissolved. Whilst hot pour over you red onions and leave covered in a bowl for 1-2 hours.
Meanwhile, make your hummus by blitzing all of the ingredients in a food processor until smooth.
For the pikelets: whisk flour, milk, water and yeast into a batter the consistency of whipping cream. Cover with cling-film and leave for an hour until really bubbly.
Heat a heavy-based frying pan or flat griddle over a medium-high heat. Whisk the salt and baking powder into the batter. Lightly grease pan. Spoon a dollop of batter and after 3-5 minutes, when the surface is just set, flip it over. Cook for a further 2-3 minutes, until golden on the other side. Repeat with the remaining batter in batches.
After the mackerel has cured for the allotted time, remove it from the salt and sugar cure and gently wash under a cold tap and pat dry. Sprinkle the skin with some Savoury Umami seasoning, then blow torch the skin until crisp.
To serve, use a pikelet, spoonful of beetroot hummus, sprinkle of samphire and piece of mackerel per canapé. Garnish with some pickled red onions. 
For pudding - serve Pots & Co Rhubarb and Custard pots with a teaspoon and dig in!
SALT BAKED CHICKEN
This exciting ramen dish is finished with succulent shredded chicken baked in a sea salt crust. The aromatic noodle broth is rich in umami and can be finished with Fiery Umami salt for an authentic seasoning. Cooking a chicken or fish in a salt crust protects the ingredients from extreme heat and keeps the juices in. Serving the chicken whole and breaking it at the table creates a feasting vibe and the flesh remains moist and, despite the huge amount of salt, perfectly seasoned. The Pots & Co Lemon & Lime Posset is the perfect pudding to have after the ramen, continuing the fresh, clean flavours with a silky-smooth, zingy posset.
Serves 4-6 (depending how hungry you are!)
INGREDIENTS
FOR THE SALT BAKED CHICKEN
1 whole free-range chicken, spatchcocked
1 kg Cornish Sea Salt Crystals
4 egg whites, beaten until foamy
50ml / 2 fl oz water
2 tbsp rice wine vinegar
1 tbsp Shichimi or Chinese Five Spice
1 tsp ground ginger
FOR THE NOODLE BROTH
750 ml chicken stock
350g ramen noodles
4 spring onions, finely sliced
2 cloves garlic, finely chopped
4 tbsp soy sauce
2 tsp miso paste
1 tbsp grated root ginger
1 tbsp sesame oil
1 tsp chilli flakes
GARNISH
4 soft boiled eggs, peeled and halved
1 pak choi, shredded
1 tbsp fresh coriander, gently torn
2-4 tsp Cornish Sea Salt Fiery Umami 
METHOD:
Preheat your oven to 180˚C and line a baking sheet with parchment paper.
In a large bowl, combine the salt, egg whites and water, stirring until you have a mixture that resembles wet sand. Incorporate the vinegar and spices. Set aside.
Using a sharp pair of kitchen shears, cut the backbone out of the chicken, turn over so it is skin side up, and flatten the bird. (This is called "spatchcocking" and allows the chicken to cook more evenly.) 
Spread a small amount (1-2 handfuls) of the salt crust on the parchment paper, and place the chicken on top, laying flat. Pile the rest of the salt mixture on top. Pat it down like you're building a sandcastle, making sure it's completely coated, there are no holes, and no spots of skin peeking through. 
Bake in the pre-heated oven for 1 hour 15
While the chicken is baking, make the ramen broth and prepare the eggs.
To soft boil the eggs, bring a pan of water to a rolling boil. Add the eggs to the water for 5 minutes, then remove from the heat, drain the water and immediately run under cold water until the eggs have cooled. This will prevent them from cooking further. You can leave the eggs in cool water until you are ready to peel and serve them.
For the broth: in a large pan or wok, heat the sesame oil and add in garlic, spring onions, ginger and chilli. Stir for 1-2 minutes and then add stock, soy sauce and miso. Bring to the boil and then reduce the heat, simmering gently for 5 minutes. Turn off the heat while you prepare the salt-baked chicken.
Remove the chicken the from oven, and using a knife or mallet, break open the 'crust' the salt has formed over the chicken and discard. Use a pastry brush to brush off any loose salt. 
Peel the skin off the chicken to reveal the juicy, tender, and perfectly cooked meat underneath. The skin will be very salty, but the meat underneath will not be. 
Shred the chicken and add to your noodle broth, along with the noodles. Simmer for 6 minutes. Serve in deep bowls garnished with shredded cabbage, egg and coriander. Sprinkle with Fiery Umami seasoning for a final flourish.
Once the ramen has been enjoyed, present your guests with a delicious, creamy Pots & Co Lemon & Lime Posset to finish off the meal.
FILLET STEAK & SWEET POTATO HASSLEBACK
Cooking steak perfectly is based on a few factors; good, well-hung beef is essential, which must be cooked and seasoned carefully. Served with the steak are hassleback sweet potatoes and hispi cabbage with rosemary butter, a classic meal that is perfect food for a date night or special occasion. Seasoning with Cornish Sea Salt Flakes will enhance all the natural flavours and add depth to your dish. For pudding? The only thing luxurious enough to follow such a deliciously decadent meal is the Pots & Co Salted Caramel & Chocolate Ganache – deeply flavoured with chocolate, caramel and Cornish Sea Salt.
Serves 2
INGREDIENTS
2 6oz fillet steaks (or cut of your choice)

2 sweet potatoes

1/2 hispi cabbage

1 tsp finely chopped rosemary

100g unsalted butter

2 tsp Cornish Sea Salt Flakes

Pinch of Cornish Sea Salt & Peppery

1 tbsp olive oil
FOR THE CHIMMICHURRI
1/2 shallot, finely chopped
1 clove garlic, finely chopped
2 tbsp parsley, roughly chopped
1 tbsp coriander, roughly chopped
1/2 red chilli, finely chopped
zest of 1 orange
1 tbsp orange juice or cider vinegar
1 tbsp olive oil
Generous pinch of Cornish Sea Salt Flakes
METHOD:
Preheat your oven to 180˚C. Remove your steaks from the fridge, rub with a little olive oil and some Salt & Peppery then leave to rest to allow them to return to room temperature.

Prepare your sweet potatoes by slicing in half lengthways and then slice almost all the way down through the skin at 10mm intervals to hassleback them. Drizzle with oil and sprinkle with Cornish Sea Salt. Bake in the preheated oven for 35-40 minutes.

To make the chimmichurri, simply chop and mix all of the ingredients together, seasoning to taste. 

Make a simple rosemary butter with melted butter, rosemary and a good pinch of Cornish Sea Salt.

Cut your hispi cabbage in half lengthways and start grilling it in a ridged skillet. Baste with the rosemary butter at regular intervals and cook until the heart is tender. Don't worry if some of the leaves burn a little, the char will work wonderfully with the steak.

Now time to cook your steak, heat a dry pan and place your seasoned steak into the pan. Cook to the desired texture - medium rare should take about 5-6 minutes. Then remove from the heat and leave to rest for at least 5 minutes in a warm place covered with tinfoil. Carve thinly at an angle and arrange on warmed plates.

Season the steak with Cornish Sea Salt Flakes and serve with your baked potatoes, cabbage and either rosemary butter or some chimichurri.

After the steak, serve Pots & Co Salted Caramel & Chocolate Ganache for pudding. A fabulous way to finish your meal.