Latest
Sweet & Salty: An Interview with Paul A Young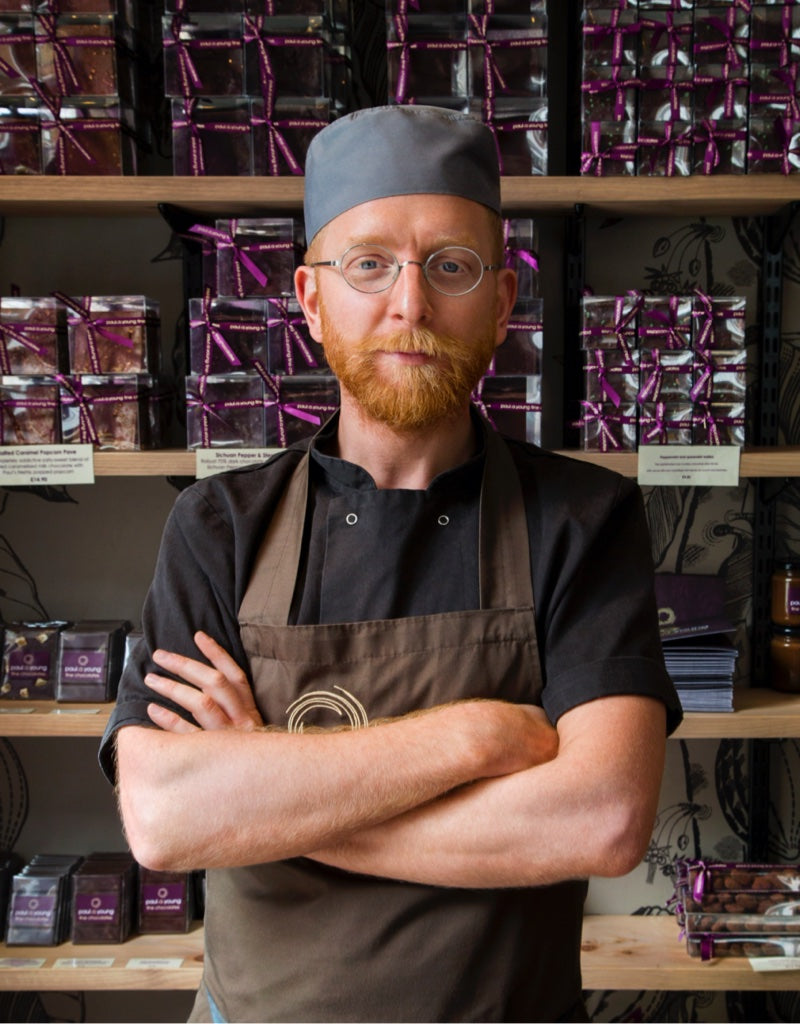 If you love chocolate, you've probably heard all about chocolatier, Paul A Young, already. We were delighted to welcome Paul to the Cornish Sea Salt club when he made the decision to move to us as his salt supplier, for the first time in 13 years. Based in Soho, he's creating some of the most exciting flavour combinations we've ever come across. Paul's Sea salted caramels are some of the most awarded in the world.
Photo Credit: KirstySapsford
What makes your chocolate so good?
Our methods result in what I believe to be a better chocolate. We only use natural ingredients and chocolate from the very best producers. We have no artificial flavourings, stabilisers or preservatives so our chocolates need eating quickly when fresh. We create every product by hand from the beginning, so the filling, the shell, the coating and decoration. Really, it's down to the ingredients; if the chocolate doesn't taste well balanced and rounded then there is no way of improving this.
Chip Shop Caramel, Rosemary and Olive Oil Gianduja,  Sourdough, Buttermilk and Sea Salt: you've got some  of the most unusual flavour combinations we've ever  heard of. How do you come up with these unique flavours?
Inspiration comes from everywhere… from an ingredient, a smell, a feeling or from taking time to play with the chocolate and ingredients. We then find different types of chocolate to pair with the ingredient or vice versa and begin to melt and blend the chocolate with the ingredients to see how they perform… will they become a caramel, a ganache or a bar of chocolate? It's a process that can take from a few hours to a few weeks. We don't know how long it will take until we begin the process. We then create samples of the finished chocolates and taste them over a one to two month period to confirm their shelf life and flavour. Decoration and shape are very important so this happens once we have the flavour and recipe finished. It's then time to launch the products into our shops and on social media.
What has been your greatest triumph and disaster?
I first created the sea salted caramel in 2004 when adding salt into caramel was very new and experimental. It's still our biggest selling chocolate. My biggest disaster was when I created a Stilton truffle in 2006 and they fermented and burst open overnight… the addition of a generous amount of port solved this problem.
In your opinion, what is so special about sweet and  salty flavours together with chocolate?
Adding salt into chocolate has become so mainstream now, but it's all about getting that balance right. When you do, the salt brings the chocolate alive and can enhance the flavours and complex notes within it. It's not easy to get right, but when you do, we can't get enough of it. I think it is something very human, opposites attract and they can be balanced so well that we get addicted to it.
How would you describe the flavour of Cornish Sea Salt and why do you choose to use it in your chocolates?
The flavour of Cornish Sea Salt is sweet and one that develops without any bitterness or harsh aftertaste. I've chosen to use it because I wanted a salt producer that uses a benign process, and from a company that respects the environment and the impact it has. The flavour is of course important and the aftertaste has to balance well with our different varieties of chocolate. Cornish Sea Salt complements the chocolate and doesn't drown out any of the complex flavours. It's the best sea salt I've used and I've tried them all I think, and only choose to use something that I can use across many different applications and flavour profiles of chocolate.
What's next for Paul A Young?
We are now planning 2020 products and beginning to reduce our plastic packaging into fully-eco packaging. I'm sure there will be lots of news but this often comes at short or no notice and we do love a surprise.
Try some of Paul's favourite chocolate recipes for the ultimate hot chocolate and harvest tin can brownies on our recipe page.