Latest
Simple Seasoning tips for the best BBQs this #NationalBBQWeek!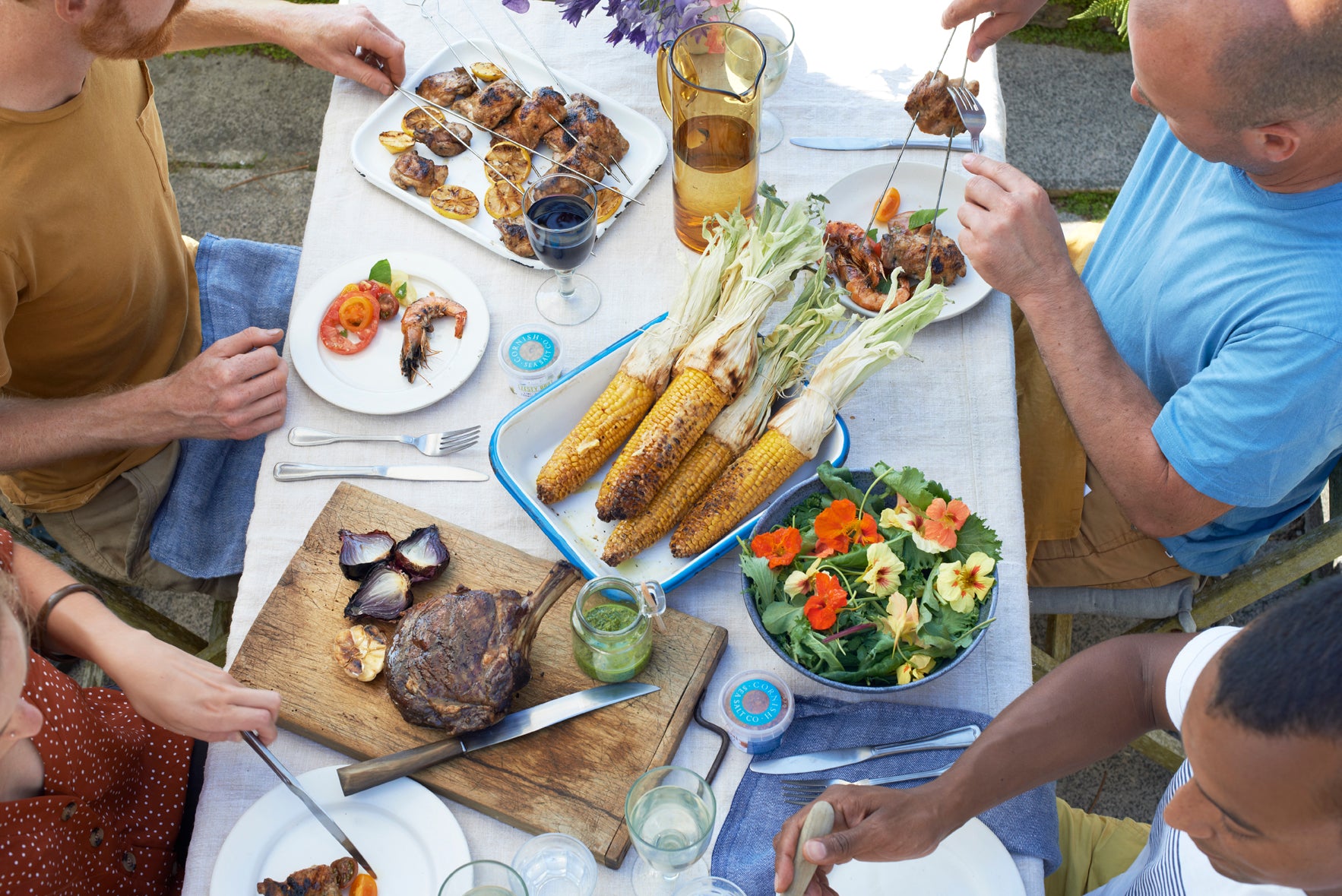 British summertime is very much here- and no amount of rain or drizzle is going to put a stop to #NationalBBQWeek! We've put together our favourite ways to use Cornish Sea Salt to take your outdoor cooking to another level. Read on for some #SimpleSeasoning tips!
Salt & Peppery Corn on the Cob
No barbecue is complete without corn on the cob- and we love it even more when it's smothered in homemade flavoured butter. Simply soften unsalted butter and mix with a pinch of Salt & Peppery (pick up your pot in Waitrose and Sainsbury's), then use a pastry brush to get a good coating on your barbecued corn just before serving. Perfectly seasoned and super simple. It doesn't get better than that!
Really Garlicky Prawns
Bring all the flavour of the Mediterranean to your garden this summer with these no-fuss garlicky prawns. Coat fresh shell-on prawns with olive oil and a sprinkle of Really Garlicky (also available in Waitrose or Sainsbury's) before grilling on the BBQ until all that tasty roasted garlicky flavour has infused. Flavour-packed prawns without any chopping or peeling garlic!
No More Sad Salads!
A good salad selection is all about variety- and not going overboard. Nobody wants a fridge full of half-wilted leaves for days after your BBQ, so we'd recommend choosing a couple of simple salads that you can make ahead to add a pop of fresh colour to your al fresco table. A good cold pasta dish (like this Green Orzo Salad from @food_stylist) will always be a hit, and this tasty Tomato, Strawberry and Basil Salad is a vibrant way to celebrate seasonal fruit. We also love this Buffalo Mozzarella and Broad Bean Salad from Emily Scott for a more substantial offering.
No BBQ? No problem!
It's not always possible to venture out into the great outdoors and cook over coal. Whether you're not blessed with outside space, or (let's be honest) the weather's having none of it, sometimes you need to cheat that smokey flavour. Our cherry and applewood-infused Smoked Sea Salt flakes are the perfect seasoning for when you want all that barbecue-y flavour from the comfort of your kitchen. Use to season your grilled meat, fish or veggies for a deep, smoky flavour without the effort. Grab yourself a flavour-packed pot from Sainsbury's or Tesco!
And just like that your barbecues are packed with flavour whatever the weather!
We love seeing how you use Cornish Sea Salt to take your homecoming to another level, so don't forget to tag us in your snaps and share your #SeaSaltDifferently hacks on Instagram, Facebook and Twitter!