Latest
Meet the Team: Cornish Sea Salt Ambassador, Graham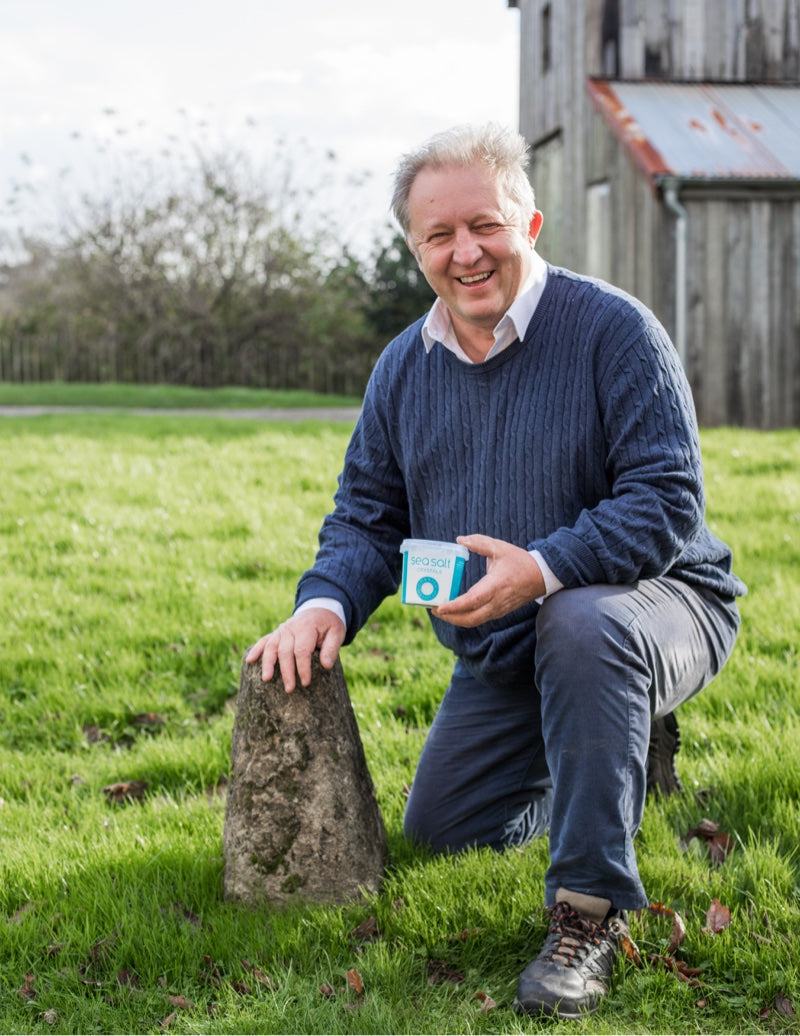 Tell us a little bit about yourself and how you came to be a part of Cornish Sea Salt
I was lucky to be involved at the inauguration of Cornish Sea Salt in a rather unusual way. I ran an events company for many years in Falmouth and was asked by the late founder of Cornish Sea Salt, Tony Fraser, to assist with some of the very early events. My company was tasked with providing the stage lighting for the original Cornish Sea Salt Crystals. They were shown to prospective buyers and chefs in a very large blue bowl and the colours depicted the lovely sea water around the Lizard Peninsula.

Where can people find you around Cornwall to buy Cornish Sea Salt?
Over the years I have attended lots of different events to promote Cornish Sea Salt in various formats and flavours to as many events as possible. Some of my earliest shows nearly 10 years ago were at the NEC in Birmingham with the television chef James Martin and many visits to River Cottage in Axminster for Hugh Fearnley-Whittingstall. They were nerve-racking as I was still learning the ropes! Food marquees started appearing at the one-day shows so that created another popular area to take the product. Currently I cover as many as possible of the big shows in the West Country such as Royal Cornwall Show,
Dartmouth Food Festival, St Ives Food Festival, Porthleven Food Festival and all Made in Cornwall events on Lemon Quay in Truro. In between these larger events I can be found at Truro Farmers Market, Padstow Farmers Market, Torpoint Street Market and the Royal William Yard Good Food Sundays in Plymouth.

Tell us more about the refill station you're launching this year?
I am delighted to be the first refill station for Cornish Sea Salt Crystals and Flakes which is being planned for early 2020. Many of my regular customers have expressed a wish for this service. The idea being that they can bring their own container to me for a refill for as much as they would like. I feel if we all do our bit we can help the environment.

What's your favourite show to attend and why?
Some of the shows such as Dartmouth Food Festival and the Royal Cornwall Show are events I like to attend as
there is so much buzz around them. I now have a lot of people who ask where I am going to be so they can visit a different food show or market. It's quite funny when I am out of Cornwall the number of people who want to holiday in our area and ask for the best places to visit!

Which is your favourite Cornish Sea Salt to use and why?
My favourite pinch salts are lemon and thyme, I try and keep as many as possible around the cooker and often experiment with ideas that customers have suggested.

What do you like to do in your spare time?
When not playing 5-a-side football, I'm cooking at home or visiting new and unusual eateries. As chairman of Truro Farmers Market I enjoy being involved in the applications for the new applicants and helping them to progress at farmers markets.