Latest
A Fuss-Free Menu for Summer Dinner Parties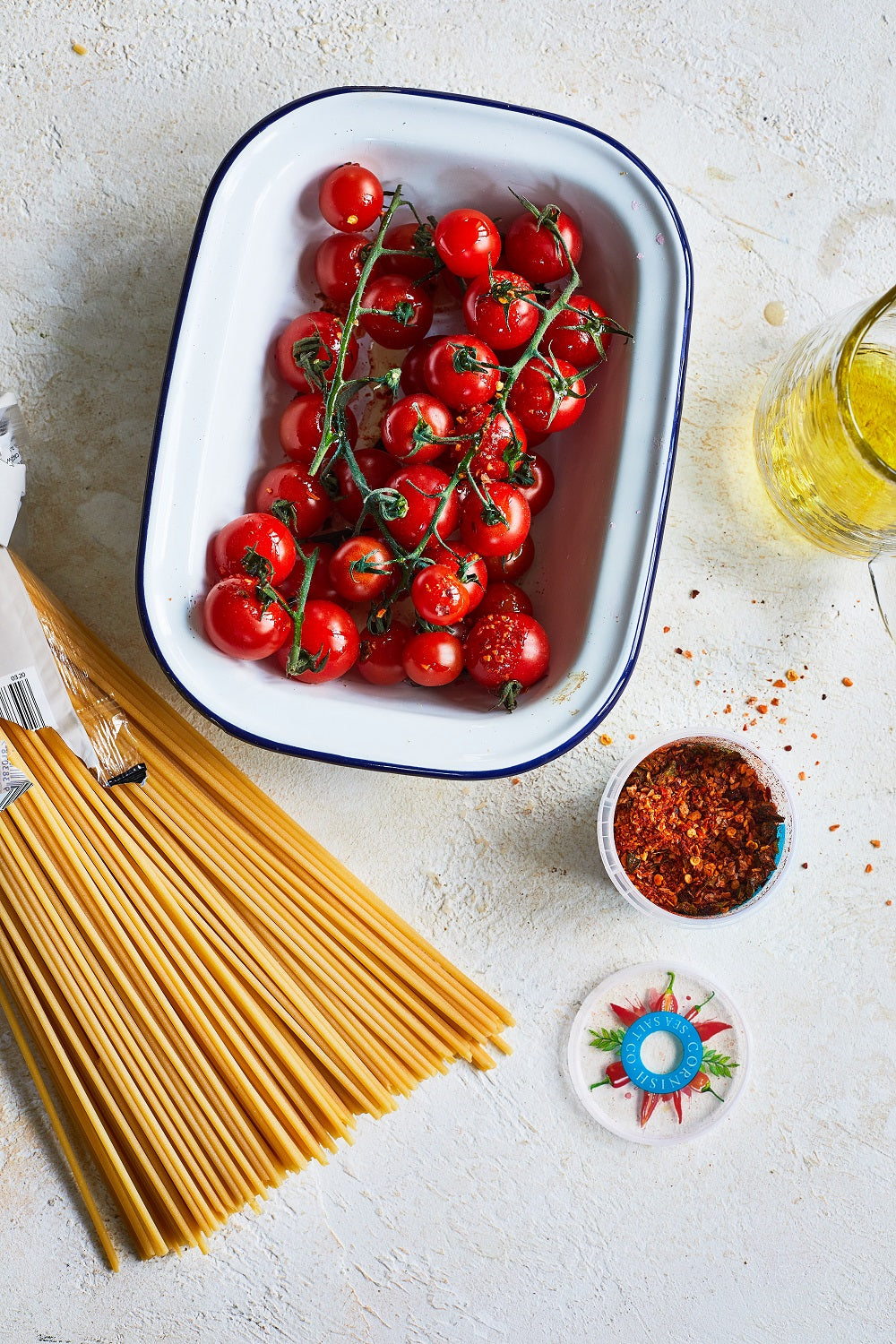 The season of entertaining is here, and if you're anything like us you can't wait to get everybody together in the garden for some al fresco fun in the sun. To help you make the most of the season we've put together our Cornish Sea Salt ultimate simple summer dinner party menu- read on for our top simple seasoning tips that, as ever, bring all the flavour with none of the fuss!
To start- Heritage Tomato Crostini with Cornish Sea Salt Really Garlicky
Bring a little bit of the Med to your garden this summer with a relaxed Aperitivo hour (an early evening drink traditionally accompanied by something salty to snack on) while your guests settle in. These crunchy crostini use seasonal heritage tomatoes- ideally in all different colours and sizes- and a pinch or two of our morish Really Garlicky blend for a simple celebration of summertime flavours. These are best made ahead, so the tomatoes can absorb all the flavour of the salt, and so that you can absorb more sunshine with a drink in hand!
To make:
Simply slice up a large ciabatta loaf into inch-sized wedges and lay flat on a baking tray. Drizzle generously with good quality olive oil and toast in the oven until just crispy. Layer with thinly sliced tomatoes- try to mix up the colours and sizes for a rustic finish- sprinkle with Really Garlicky and arrange on a large sharing-style wooden chopping board ready to place on the table when your guests arrive, being sure to finish with a final pinch of salt just before serving.
Main course- Crab & Leek Gnocchi Bake with Cornish Sea Salt Flakes
Another make-ahead dish that's sure to impress- this easy gnocchi bake uses seasonal crab for a taste of Cornwall wherever you are in the country. Serve bubbling hot from the oven with a simple salad of wedged iceberg lettuce.
To make:
Trim, wash and slice your leeks into roughly 1-inch chunks and sweat off with a knob of butter in a frying pan until tender but not browned. Boil your gnocchi in salted water (crystals are best for this job!) until it bobs to the top of the pan. Drain the gnocchi and add to the cooked leeks along with crabmeat (we prefer white, but you could use a mix of white and brown), a dollop of crème fraiche, a pinch of sea salt flakes, and the juice and zest of a lemon. Mix well, adding more crème fraiche if needed. Pour into an oven proof baking dish and top with finely grated parmesan. Bake until golden brown and bubbling.
Dessert- Grilled Nectarines with Whipped Mascarpone & Cornish Sea Salt Smoky Almonds
Juicy nectarines are given an addictive smoky salty topping in this do-it-yourself dessert. You can use a barbeque or griddle pan to get the nectarines nice and caramelised, or simple pop under the grill on a high heat. We recommend making a plenty of the smoky almonds- you'll want to be snacking on them the next day!
To make:
Lay flaked almonds on a baking tray, drizzle with honey and sprinkle with smoked sea salt. Toast in the oven until golden brown and try to resist eating all of them before your guests arrive! Use a whisk to whip the mascarpone in a bowl and pop in the fridge- both the almonds and the cream can be prepped beforehand and placed on the table for guests to help themselves. When you're ready for dessert, half your nectarines length-ways so they're flat and thin and grill skin-side down until soft and slightly charred. Dollop with the whipped mascarpone and scatter with the almonds for a simple but super tasty pudding.
Follow us on Instagram for plenty more tasty tips, recipes, and inspiration- and don't forget to tag us in your #SimpleSeasoning dinner party creations to be in with a chance of winning a pot of Cornish Sea Salt!