Latest
Meet the expert - BBQ & smoking pro Ty McKend shares his top tips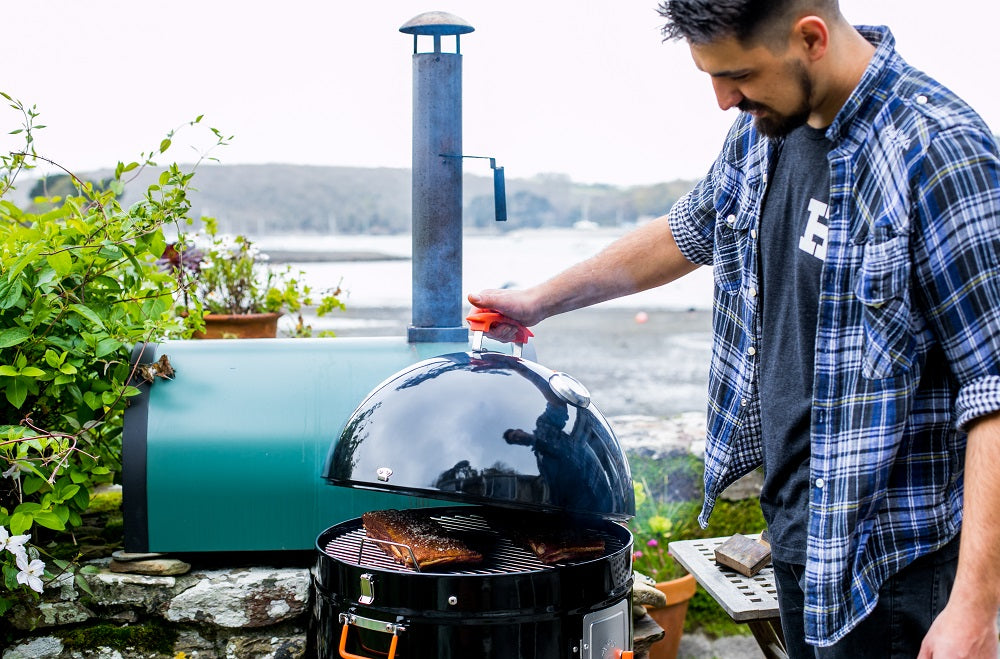 At Cornish Sea Salt, we love a bit of BBQ action in the summertime, but cooking over wood and coals isn't just for sunny days. There are many ways to use a BBQ, including for smoking foods. Ty McKend from ProQ BBQs built our salt smoker for us, so we knew who to call when we wanted to talk about the perfect BBQ and smoking techniques.  
What makes the Smoked Sea Salt special and how is it made?
The special part of Cornish Sea Salt's Smoked Salt is that it's slowly smoked with a cool smoke in a bespoke smoking chamber which has a finely balanced airflow to avoid acridity and produce an authentic and robust smoke flavour and colour. We've also carefully selected a blend of responsibly sourced woods to do the smoking with. We use 3 kinds of wood in the blend - cherry for colour and depth, oak for its robust and traditional smoke, apple wood to balance the oak and add a touch of sweetness. Before use, all the bark is carefully separated from the wood to remove any hint of bitterness leaving us with a well-balanced, natural smoke made from real wood.
What are your top tips for Smoked Food beginners?
Start simple: cold smoking things with low prep time is a great place to start, try some cheese, butter, nuts, olives and of course salt!
Master your fire: hot smoking is as easy as cooking in your oven once you have your fire under control. Test different fuels, and fire lighting methods - soon enough setting your smoker to a certain temperature will be second nature, once you have that the rest is easy.
Get a good book: I find a lot of confusion comes from reading lots of online sources and mashing the information together which leaves people half way to understanding the curing and smoking process but still not confident in their knowledge of different applications of hot and cold smoking. Try James Strawbridge, Steve Lamb or Smoky Jo's books, they're well researched and very informative, without being too complex.
Experiment: you can smoke so many different foods; I've tried marmite, peanut butter, chocolate, roe for taramasalata, and I've even seen smoked bread and butter pudding. Some work, some don't, but there's only one way to find out.
What's your favourite BBQ gadget?
This is really hard for me as I'm a gadget fiend, but the one thing I always carry with me to a BBQ is a probe thermometer of some kind. I have one that sits in the meat and lets me know when my food is ready without even having to go outside.
What is your favourite Cornish Sea Salt Product and why?
It has to be the Fiery Umami – it adds a great little kick of flavour to any food, I particularly love it sprinkled onto soft yolked eggs on toast and in chilli for the added depth of flavour the seaweed brings.
What's your favourite part of Cornwall for a BBQ?
Another tough one! As a family we usually either head down to the river in Lostwithiel in the evening or take a trip to Poly Joke beach on the weekend – it's well worth the extra walk.